Burger, Ribs, Fajitas, and a beer; must have reminded you of Chili's? These specialties of this fast-food chain cannot go off someone's mind while the special and exclusive combo deals, coupon deals, deep-discount deals are the other things difficult to forget as the times are rare where you will not find any deal going on to serve you at Chili's. Well, apart from those specials, don't forget Chili's deliciousness in Pizzas, Pasta, Sides, Sandwiches, Beverages, Salad, Soups, among others.
Chili's Deals In Details: Zouton Recommendations
Before scrolling past and applying those deals in your order, let's have a look at the requirements so that best can come to you.


1. 3 Food Items At $10
Ever dreamt for fulfilling your appetite for just $10 with favorite Chili's cuisine? Well, then here's the chance where you are getting 3 food items for just $10.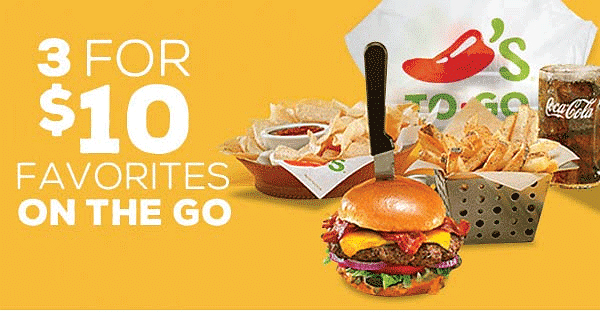 Any 3 food items can be ordered from the eligible menu, which is:
-An Entrée
-Non-alcoholic beverages
-Appetizer

No need to fulfill minimum threshold values

Coupon code is not required to enter during checkout

The deal cannot be used with other deals in a single order

All users have access to the deal

Online orders from Chili's Website or App will be considered valid

Cards and Net Banking can be used for the payment

The deal will remain valid till 31st July 2020
2. Free Delivery On Order Above $15
Shun off the cost incurred on delivery from your order easily by ordering your Chili's favorite for just $15.
Free delivery for orders above $15 is availed

Deal can be availed on all of the food items

Free delivery can be accessed across the whole USA

A Chili's coupon code is not required, benefits will be added automatically

Only online orders through Chili's website or app would work for the deal

Existing or new, all users can use the deal

Validity will expire on the last day of July
3. Chili's Lunch Special: $7.49 Onwards
A lunch with friends at Chili's will no more be expensive as the food chain availing the lunch for just $7.49.

Minimum transaction value is not required to complete

The Menu under the deal is:
-$7.49 Onwards: 2 Burger Combo For Lunch
-$9: Shrimp Fajitas For Lunch

While checkout a Chili's coupon code is not required

The deal could be used multiple times until the validity

Payment Mode could be anything from:
-Credit/debit cards, net banking, PayPal

Use Chili's website or app to order the Lunch

All users are eligible to access the deal

Grab the deal before 31st July
4. Free Food: Subscription Deal
Getting something for free from Chili's door is literally a great deal, and you can get it easily when you subscribe for the required things.
The menu for free food items include:
-Chips
-Salsa
-Non-alcoholic Beverages

The requirement to get free food items:
-Enroll yourself for 'My Chili's Reward' while entering your email ID
-After enrolling the user compulsorily would have to visit any of the participating Chili's store in 60 days

A promo code is not required for validity

Only new users can access the deal

You can use either Website or App to register yourself

The deal would be invalid after 31st July 2020
5. Gift Cards: $5 Onwards
An easy, inexpensive, and likable present to your loved ones is here. Give them a Chili's gift card available for just $5.

Gift cards from $5 to $100 are available.

The deal includes:
-Physical and E-Gift Cards
-Gift Cards with Personalize messages
-Occasions: Birthday, every day, congrats, thank you

The deal can be grabbed online from Chili's website or app

The deal can be redeemed without any Chili's coupon code

The deal is availed to all users

Users can use Card or Net Banking for payment

Validity for the deal will expire on 31st July 2020
6. Chili's Gift Tokens: Under $20
Present your loved ones a token of gift with Chili's, and that is for less than $20 so that they can access their Chili's favorite.
Users can send a Chili's Gift token for a maximum price of $20 by email or text.

Categories for Gift Tokens available under the deal are:
-Entrée
-Drink
-Desserts

Gift Token Options:
3 For $10
-Margarita
-Burger
-Beer

The recipient can redeem the token on online orders

Minimum transaction value is not required to fulfill

A coupon code to enter while checkout is also not demanded

The deal is available for all users

The validity of the deal will remain intact until 31st July 2020
Frequently Asked Question (FAQs)
1. Can The Recipient Use The Chili's Gift Cards At Restaurant?
Chili's does offer gift cards that can be used at the restaurant outlets too. While some Gift cards remain exclusive for inline order.


2. Is There Any Exclusive Deal Available For New Users?
Chili's is quite active when it comes to deals for new users, and now too it is up with "Free Food Items" deal where on subscription with email Id the new user can get free food items.


3. Is There Any Way To Get The Delivery For Free?
Yes, Chili's is delivering the online orders for free given the order should complete the threshold value of $15.
Though there is no specific or best time to order your favorite food and you should ask for them whenever you like but if budget is something that is considered then the time when deals are available in numbers, and the benefits are unlimited then definitely it's a perfect time to order food that truly satisfies you and Chili's is the perfect destination for that. Well, the above deals seem great enough to prompt you to pick up your phone and order the specialty from Chili's so that it won't feel heavy on your pockets.