The "reward" for uncompromising love for retail therapy is the Belk reward coupon! All Belk Rewards Credit cardholders can avail extra 20% off on every brand along with $10 rewards!
Belk Promo Codes (September Edition)
| Belk Coupons | Belk Promo Codes | Validity |
| --- | --- | --- |
| Fine Jewelry @ 65% off | EXTRASHINE | 12/31/2020 |
| 60% off | All Categories | STOCKUPNOW | 10/29/2020 |
| Grooming Brands: Extra 20% Savings | FRAGRANCE | 09/28/2020 |
| 50% Discount | Belk Exclusive Brands | 16981553 | 11/27/2020 |
| 65% off: Fine Jewelry | 88087758 | 09/25/2020 |
| Online Orders @ Extra $10 discount | 46761973 | 12/31/2020 |
*Read more about Belk September Coupons 2020
Belk Reward Coupon: Terms & Conditions
Avail Extra 20% Off: Belk Rewards Card
With the use of the store's rewards credit card at any Belk store or on belk.com, cardholders can receive three rewards points for every $1 that they spend. All account holders can save 20% on eligible purchases.
The discount can be availed on the following products:

Beauty, home, shoes, clothing & more
Belk discount code is 32992147 required at checkout

All users can apply for the Belk rewards credit card.
Purchases to be made online via app or website
Free shipping available on orders over $35
Payment mode:
*Also worth reading: Belk Printable Coupon

Belk Rewards Card | Earn Flat $10 Rewards
With a Belk Rewards card, racking up savings won't feel like a herculean task. Each time you reach 1,000 points in a calendar year, you'll receive $10 in Belk Reward Dollars. So without any further ado, apply for the credit card today.
The deal can be redeemed online or in stores.
All users can apply for the credit card.

Get $10 reward on your first purchase

Following are the additional benefits:
Categories available:

Home decor, clothing, watches and more

Make payments using Belk credit card to get rewards.
Editor's Tip: Shop during the Belk Black Friday Sale to save even more at the store!
Belk Rewards: Application Procedure
Go to the Belk website.
Click on the Belk Rewards button available on the top right hand corner.
Click on the "Apply Now" button.
You will be redirected to Belk Credit Account online portal.
Register yourself there.
The Belk Rewards Card follows a three-tier rewards system that endows its spenders with ample rewards which in turn helps them get the best bang for their buck.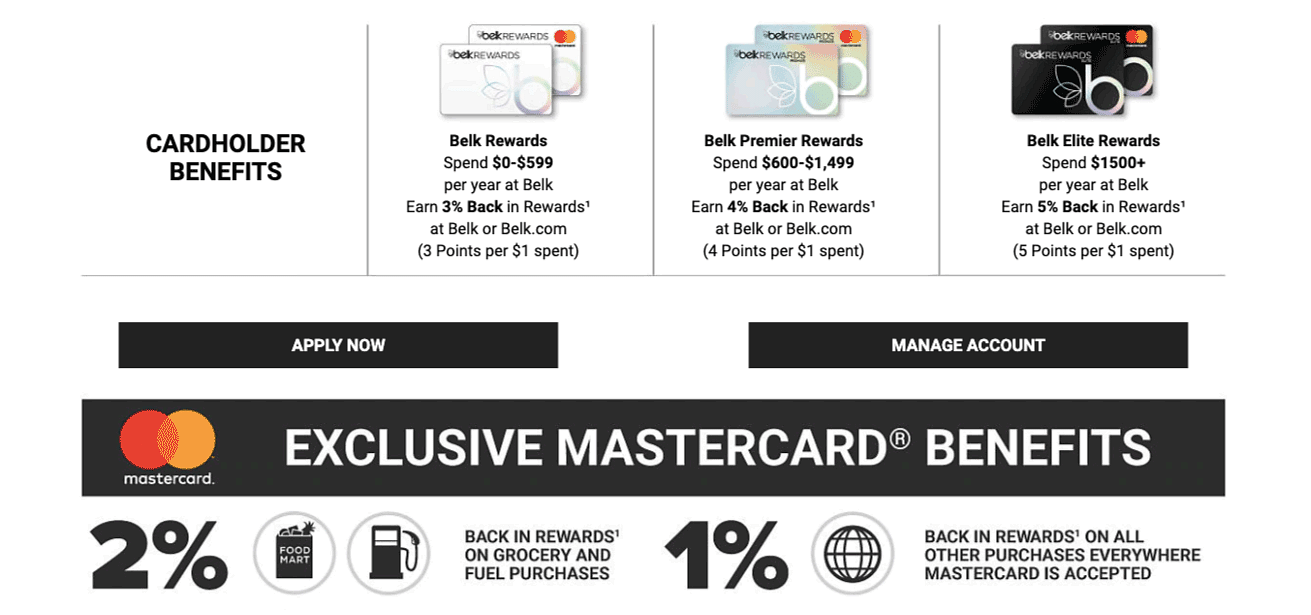 | Card Type | Spending Requirement | Rewards Rate |
| --- | --- | --- |
| Belk Rewards Card | $0 to $599 | 3% |
| Belk Premier Rewards Card | $600 to $1499 | 4% |
| Belk Elite Rewards Card | $1500+ | 5% |
As each tier increases, members get added benefits, including more-flexible payment options, free shipping for in-store and online Belk purchases and invitation-only savings events.
Belk keeps a check on your spending and automatically issues you a new card if you've reached a new tier.
But if you don't spend enough each year to remain in a certain tier level, Belk has the power to downgrade your card.
Belk Rewards Card Coupon: Points to Remember
Rewards certificates can only be redeemed at Belk, either in-store or online.
These certificates are mailed out two to three billing cycles after you've earned 1,000 points.
If your Belk Rewards Card remains inactive for 12 months, any remaining rewards points on the account will be forfeited.
Even if your account is in good standing, rewards points expire one year from the date that they're earned.
Belk Rewards Mastercard Vs Belk Rewards Card
When you apply for the Belk Rewards Card you're actually applying for two different cards at the same time: the Belk Rewards Mastercard and the Belk Rewards Card.
The Belk Rewards Mastercard is accepted everywhere Mastercard is accepted.
The Belk Rewards Card is accepted only at Belk, either online or in-store.
Belk FAQs
Does Belk have any printable coupons?
Yes. There are a lot of printable coupons available with Belk along with other coupons. You can check out these coupons at Zouton and ensure maximum savings on your shopping bill.
Can you stack coupons at Belk?
No. Belk does not support coupon stacking at the time. However, you can make full use of the cashback offers and deals available at Belk.
Does Belk offer any military discounts?
Yes, Belk offers Seniors, Military & Teachers discounts every Tuesday. For more military discounts on top brands, CLICK HERE.