IKEA Black Friday Sale 2021 is just around the corner and if you are wondering what to expect from the coming shopping season, you have stumbled at the right place. Read the following details to know what all you can expect from the coming furniture haul.
IKEA Black Friday Sale 2021: Weekly Updates
October 16th, 2021:

IKEA Buy Back Friday initiative encourages would-be customers to sell old furniture, enabling IKEA to lead the way to sustainability | LATEST NEWS

October 15th, 2021:

IKEA launches an upcoming sale timeline for shoppers across the US | NEW

October 14th, 2021:

Upcoming

IKEA Black Friday Sale Dates revealed | TRENDING
IKEA Pre- Black Friday Sale 2021: Trending Today
| IKEA Coupons | Coupon Code | Validity |
| --- | --- | --- |
| Ikea Deals 2021| Upto 40% Off | | 30/10/21 |
| Ikea Family Member Deal | Upto 20% Off | | 30/10/21 |
| Order Home Essentials| Under $20 | | 29/10/21 |
| IKEA Gift Cards: $25 | | 30/10/21 |
| Home Office Furniture Starts @ Under $150 | | 29/10/21 |
IKEA Black Friday Sale| Top Categories
IKEA Black Friday Sale 2021: Dates, Timings & Other Details
If you plan to give your living spaces a renovated and revamped look, you know IKEA is going to be the most trusted companion in your journey. The brand has established itself as a synonym for durable and stylish furniture that elevates the look of your home at affordable prices.
After the massive success of the IKEA Black Friday 2019 Sale, the retailer is all set to follow through with even bigger and better IKEA Black Friday deals for 2021. If you are a frequent shopper at IKEA, then you know that Black Friday is the best time to shop at IKEA because they come out with never-seen-before discounts that include bundles, BOGO, and also flat 50% off deals.


IKEA Black Friday Sale 2021 Dates
IKEA Black Friday Sale is the most awaited shopping-haul for all furniture and home-decor enthusiasts. In 2020, IKEA did not host the Black Friday Sale due to pandemic issues and concerns.
But we expect IKEA Black Friday Sale to go live this year from 26th November 2021, right after Thanksgiving Day is celebrated on 25th November. The sale usually lasts for 2-3 days and is expected to last up till 1st December 2021.
IKEA Black Friday Ad 2019
Since IKEA Black Friday Sale 2020 did not happen, we are attaching for your reference below IKEA Black Friday Ad from 2019. This is just to give you an idea on what to expect from the coming sale season so that you can prep your check-list accordingly.
IKEA Black Friday Sale 2021| What To Expect
Lookout for the best deal on categories like furniture, home decor, storage spaces and many more during the IKEA Black Friday Sale. You can expect savings, as much as upto 50%, on selected categories. While the official Ads for IKEA Black Friday Sale is yet to be out, you can find below the best deals offered in the 2019 Sale.
| Product | Image | Current Price | Discount Offered during Black Friday Sale 2019 |
| --- | --- | --- | --- |
| Sleeper Sofa | | $499.00 | Upto $200 Off |
| Strandmon Wing Chairs | | $249.00 | 50% Off |
| All-Day Beds | | $159.00 | 20% Off |
| MILLERYR Table Lamps | | $59.99 | 50% Off |
In addition to these Black Friday deals, IKEA also offered free shipping on all online orders which served as an added advantage because who doesn't love the sight of "Free Shipping" when shopping during Black Friday!
IKEA Black Friday Hours 2021
There aren't any restrictions on the timings during the sale period. Shopping could be done as usual. However, if you are planning to order online and pick up from stores, keep the following pointers in your mind:
The "Click & Collect" option should be scheduled by 11:59 pm on November 26th, 2021 in order for it to be qualified for free service.

Following which the orders will be available for pickup the next day, i.e. November, 27th 2021 from 1 pm local time.

Order must be picked up within 24 hours of scheduling them.
What Items Are Excluded From IKEA Black Friday Sale 2021?
The IKEA Black Friday Sale is redeemable only on in-stock merchandise, till the supplies last. This means you have to be quick on deciding what you wanna purchase since there is only a limited supply. Moreover, the sale is applicable only for customers residing in the United States and cannot be combined with other coupons.
One thing that some shoppers might not be aware of is that you need to be an IKEA family member in order to redeem any IKEA Black Friday deals. This condition, however, is not limited to IKEA Black Friday Sale only. In fact, some of the most exclusive IKEA sales and promotions cater to IKEA family members only.
No need to worry though, as this membership is free and can be easily opted for by signing up on IKEA's website with a valid email address. You can read about all the benefits that your IKEA membership entails here.
* Also check out Home Depot Black Friday Sale 2021
IKEA Black Friday Sale 2021: Expectations
Now that Ikea Black Friday sale is fast approaching keep your list ready and brace yourselves for hefty discounts. Customers can redeem enormous discounts like Ikea Black Friday sale 2021. Go through the following to have an idea about what sort of discounts and Ikea Black Friday deals can be expected.
| Ikea Black Friday Deals | IKEA Discount |
| --- | --- |
| | Up to 40% Discount |
| | Up to 20% Discount |
| | At $199 |
| Bedding | At $4.99 Onwards |
| Bookcases at Ikea | At $19.99 |
| TV Stands | Under $1250 |
We are also expecting a range of free coupons for the IKEA Black Friday Sale 2021 that can be employed to get enticing discounts and free goodies.
Due to COVID-19, things might be a bit different when it comes to doorbuster deals. But people can look forward to many online exclusive deals because that is going to be a common trend this holiday season. As a means to encourage shoppers to stay indoors and shop Black Friday deals online, many retailers will provide exclusive deals that will only be available online.
IKEA Pre-Black Friday 2021 | Early Deals
Just because Black Friday is a few weeks away doesn't mean you have to wait that long to start your holiday shopping. Check out these IKEA pre-Black Friday deals below:
1. IKEA Deals 2021| Upto 40% Off
IKEA Deals 2021 is your one-stop place to get all your furniture at the best prices in the market. Shop today and you can get upto 40%Offon your purchase.
Details of the Offer:
Featured categories:

Furniture

Appliances

Kitchen

Home Decor, etc.

Minimum purchase value not needed

All users are eligible for the deal

Shop via IKEA online or offline stores
Also Check: Hobby Lobby Framing Coupon| Save 50% On Custom Frames


2. IKEA Family Member Deal | Upto 20% Off
If you are an IKEA Member, then you should absolutely check the exclusive deal offer.
Get a straight 20% Off
on your purchase of selected items from the store.
Details of the Offer:
IKEA coupon code is not needed during checkout

Discount is valid on:

Members exclusive discount deal
Also Check: Bed, Bath and Beyond Credit Card Deals| Earn 5% Cashback + Upto $75 Gift Certificate


3. Order Home Essentials| Under $20
Shop for classy and trendy home-decor items from the IKEA store and with the below coupon you can get an instant discount of $20 on your cart value.
Details of the Offer:
Items available under offer:

Pillows

Lights

Wall-shelves

Wardrobes

Shoe-racks, etc.

All users can avail the IKEA deal

Offer redeemable multiple times by users

Offer can be merged with other deals
Also Check: Upcoming Sales 2021| Amazon, Target, Macy's, Hobby Lobby Etc.


4. Bathroom Furniture Set| From $100
Checkout the amazing prices for Bathroom Furniture on the IKEA store today and place your
order starting only from $100
. Read the following description to know all about the offer.
Details of the Offer:
Available types:

Mirror

Sink with frame

Single Sink, etc.

Brands listed for sale:

Nyjson

Bjorkan

Hemnes

Silveran

Godmorgon

All users(new and existing) are eligible for the deal

IKEA coupon code not needed


5. IKEA Gift Cards: $25
IKEA Gift Cards are the perfect gifting option, for possibly any occasion that is on the anvil for you. Skim through the following details of the gift cards and get shopping today.
Offer Details:
Gift Cards available: Physical and E-Gift Cards

All users can shop for IKEA Gift cards

Deal applicable for multiple occasions

Payment can be done via any preferred mode
Save more with these Top Furniture deals 2021. Check Now!
IKEA Black Friday Sale 2021 | Extra Saving Hack
If you are a frequent shopper at IKEA then you must invest in an IKEA credit card. With the IKEA Black Friday Sale 2021 around the corner, the need for the credit card increases to enjoy maximum savings on your purchase.
These credit cards not only provide additional $25 discounts to cardholders but also offer up to 5% returns on card purchases. Check out more details about the same below.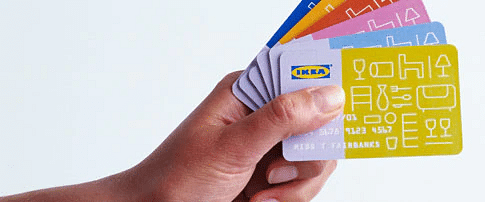 IKEA VISA Card Returns:
Earn 5% back in rewards on IKEA purchases as well as Traemand installation and TaskRabbit assembly services.

Get 3% back in rewards on dining, grocery stores, and utility purchases.

Redeem 1% back in rewards on all other purchases made with your IKEA credit card.
Other Benefits:
Get instant $25 off on your very first IKEA in-store purchase of $25 or more.

Receive a bonus of $25 IKEA Rewards when you make $500 in qualifying purchases

Applicable within the first 90 days of getting your IKEA Visa credit card.

No annual fee and Zero liability

Emergency card replacement & cash disbursement

Convenient lost or stolen card reporting

Automatic enrollment in the IKEA Family loyalty program
Terms & Conditions
Users can apply for the IKEA credit card online through the website or app.

IKEA Credit cards can be used to make payments for all IKEA purchases.

Applicable to all categories and products at IKEA:
-Home decor, furniture, small appliances, and more.

Redeemable across all IKEA stores in the U.S.

New IKEA holders are eligible for the $25 discount.
* Also Read: Ashley Furniture Online Coupons
IKEA Black Friday Sale 2021 | Save More With Family Membership

IKEA Family is essentially a zero fee club that provides its members access to special members-only discounts, coupons, and deals throughout the year. In fact, IKEA Black Friday Sale is also exclusive to IKEA family members only.
Luckily this membership is absolutely free so you can easily sign up and become a part of the club. So if you have recently moved into a new place, or looking to redo your home, or just someone looking to enhance their life at home - IKEA Family is the key to all that and much more.


Membership Benefits:
Get access to special "member's exclusive" prices on a wide range of IKEA products.

Enjoy special In-store treats every time you visit an IKEA store.

Members get to avail of hassle-free returns up to 90 days (30 days more than regular customers)

Unlock special treats and rewards as part of being an IKEA family member.

Learn with exclusive IKEA tutorials and workshops.


Terms And Conditions:
All existing and new users can sign up for IKEA membership.

Membership deals apply to all categories and products:
-Outdoor furniture, flooring, mattresses, decor, and more.

Members can shop in stores or place orders online.

Savings of up to 35% can be availed with IKEA family deals.

Regular shipping charges will apply to all orders.

IKEA Black Friday 2021 deals can be merged with members' benefits.

Make your payment via:
-Credit/Debit cards, IKEA Credit Cards, PayPal, Net Banking, etc.
*Also Read: Home Depot Black Friday 2021 Sale & Deals
How To Find an IKEA Store Near You?
To easily locate the nearest IKEA store as per your location, just follow the simple below steps:
Visit the official website of the IKEA store. Click here.
On the exact top-centre of the page, you will see a tab with a location sign. Like this.
Click on the location sign and you can easily search the nearest IKEA store as per the city or state you are currently located in.
Coupons and Discounts| Similar Brands
What are the upcoming IKEA Sales 2021?
November 5th, 2021: IKEA Big Kitchen Sale will go live with up to a 50% discount on kitchen appliances and furnishings.
November 26th, 2021: IKEA Black Friday Sale 2021 will launch for IKEA family members with 40% savings.
December 26th, 2021: IKEA After-Christmas Sale will bring the biggest markdowns worth 60% on all categories.
FAQ's On IKEA Black Friday Sale 2021
1. Why Choose Zouton for IKEA Coupon Codes?
Zouton compiles for the convenience of customers, all the currently available coupons across a multitude of e-commerce platforms. This allows them to efficiently compare their choices and make their shopping decisions accordingly.


2. What are the accepted payment methods at IKEA?
Customers can pay for their purchase at the Ikea store via the following payment methods: Credit/Debit Cards, Apple Pay, Paypal, COD etc.


3. Does IKEA offer curbside pickup on orders?
Yes, users can opt for curbside pickup at IKEA. While placing your order, select the curbside pickup option during checkout.
*Check out which other retailers offer student discounts, here.
Conclusion
Start planning your room makeover now and create your dream wishlist because the IKEA Black Friday Sale 2021 will be here before we know it. From furniture to room decor to household essentials, customers can expect discounts up to 50% on all such categories. Also, bookmark this page for we will keep updating it with all the latest deals and news about IKEA Black Friday Sale 2021.